LIFE HELP CENTRE FOR CHILD CARE, SRINAGAR
The day 8th October 2005 was a distressing day for the people of Kashmir Valley. The severity of the damage caused by the earthquake was unbelievable. Life Help Centre's disaster response team were immediately responded and implemented various relief programmes like distribution of food and nonfood items, Medical Camps, temporary shelters, etc. Through the need assessment the team decided to implement further rehabilitation Programmes and nitially implemented a Children Support Programme for 30 Children who had lost their parent in the devastating earth quake. Simultaneously the team did different assessment and studies in the region and came up with several programmes which addressed the needs of the people. LHC provided various rehabilitation supports in the sectors of Shelter, sanitation and construction of public facilities. Same time Life Help Centre decided to establish itself in the state of Jammu & Kashmir. Thus 'Life Help Centre for Child Care' evolved and implemented various rehabilitation programmes with long term goals.
Life Help Centre for Child Care was inaugurated on the 18th September 2007. It is a school which caters to the children with special needs. This school is being functioning on rented premises at Barzulla, Srinagar with the recognition of Directorate of Social Welfare, Jammu & Kashmir State. The target group is focused on Intellectually Challenged children between the age group of 6 to 16 years of both the gender especially from the earthquake affected areas and also from the Capital city, Srinagar as well as entire Kashmir Valley.
Education & Training Facilities
Life Help Centre for Child Care is a special school that paves way for barrier free and better future for special child with; AUTISM, ADHD, DOWN SYNDROME, MENTAL RETARDATION, etc, The staff team of LHCCC is confident enough that their coordinated scientific as well as affectionate efforts will enhance the skills necessary for those sort of children to access the environment. Also the LHCCC efforts go hand in hand with the parental efforts.
We have been providing all facilities in the school like Class rooms, Tables and chairs, Play materials, Training materials, various therapy items, Hostel facility, Play Ground, Therapy rooms, Transportation facility, etc. The school has an aim to cater to the needs of around 60 children out of which 25 will be residential. At present there are 56 children including day care and residential (18 Children). The staff consists of the Project coordinator, Project Administrator, Special Educators, Physiotherapist, Occupational therapist, Speech Therapist, care takers, cook, etc.
SPECIAL EDUCATION
The trend in special education assessment and programme has changed from IQ based group to functional level based grouping without compromising on the age appropriate programming. The students are grouped based on the ability and chronological age. So our special educators categorized the intervention area in 5 categories like, Primary I, Primary II, Secondary, Autism I and Autism II.
The Primary I
The age of the children studying in this class begins from 7 years approximately till 10 years according to their ability.
The children are taught the basic functional academics and daily living skills, social behaviors, fine and gross motor skills, communication skills, etc,
The students who achieve most of the items in the checklist will be promoted to the next grade level.
The Primary II
The students who are in between the age group of 11 to 14 years and severe category are pursuing  training in this category.
The children are taught the functional academics and daily living skills, social behaviors, fine and gross motor skills, communication skills, etc,
The students who achieve most of the items in the checklist will be promoted to the next grade level.
The Secondary
This group includes children between 11 to 16 years of age.
The students above 14 years are also trained in Pre-vocational skills – for boys gardening and for girls home science trained as a part of curriculum).
Autism
Autism I and II group includes children between 6 to 10 years and 11 to 16 years of age respectively.
This department caters to the children who are hyperactive and who have behavior problems. They are being trained in the functional academics through play skills, visual communication strategies, music and movement, sensory integration and sign language. They are also trained in social skills and daily living skills.
Children are also being controlled from their self aggressive behaviors.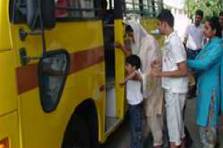 THERAPIES
Along with Special Education, therapy is mandatory for the disabled child. The therapy includes Physiotherapy, Occupational therapy, Speech therapy, Play therapy, and Yoga therapy.
SALIENT FEATURES
Special School (LHCCC) is situated in the heart of the Capital city, Srinagar. It is accessible to roadways. Both day care and residential facility are available. Regular Occupational Therapy, Physio therapy, Speech therapy and Special Education classes will be given to all the children in 1:1 basis.
Premises – Independent and spacious enough to suit the atmosphere for therapies and special education.
Complete scientific interventions coupled with holistic approach. Fully equipped to undertake all the therapies concerned.
Adequately qualified and appropriately experienced team of therapists and special educators. Activity based teaching with individual attention.
Continuous evaluation of the children in quarterly basis and discussion with parents during case conference.
Cultural and extra curricular activities for developing wholesome integrated personality.
Physical development activities – Play therapy conducted in group activities both indoor and outdoor games.
Relaxation of mind and body – Yoga therapy Work experience and art-education through group activities.
Periodical Exploratory visits arranged in the conceptual basis. Transport facilities to Pick up and drop children in and around Srinagar.
Medical and first aid services are provided. Centralised  heating system is available in the classrooms and residential area. Residential  facility is available for boys and girls  separately attached with dinning hall and kitchen in the home environment. Nutritious and tasty food is provided.